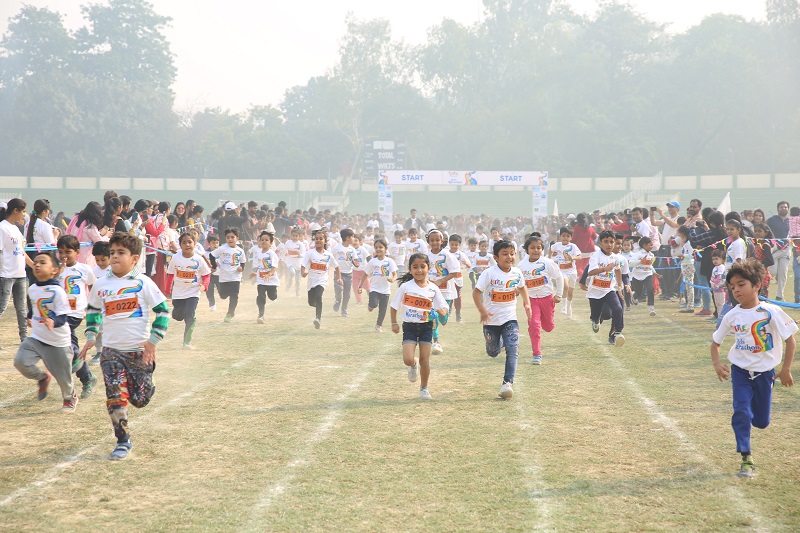 Running is the most natural form of play for a child.
Just like every athlete aspires for the Olympic opportunity, every toddler aspires to be able to run.
Be it an infant's crawl or a toddlers shaky walk, children have a clear singular command for their legs – "Make me run!"
And very rightly so because children live intuitively. They eat when they are hungry and the minute they eat and gain energy, they need to expend that energy as well. And that is why they love to jump, run and play.
Unfortunately our packed schedules and compartmentalised existence, leave our children with lesser opportunities to run.
As a parent guardian, we need to ensure that we create opportunities for our children to keep moving. Because if children do not move, they are going against Nature. Do not forget that a child's body and mind are connected to each other through movement. So we need to allow that natural movement to happen.
The minute children discover their feet, they love to jump. Jumping leads to hopping and hopping paves way to running.
This is where we need to step in!
Keep children hooked on to running. Or even better, get 'you and your child hooked on to running'.
You know why?
By running, children learn that feet are meant for running and not for kicking others. The most natural step to take is to put one foot ahead of the other and let the feet play the game with the ground below. Children learn that running can actually be a fun sport.

Running gets the adrenaline going and that releases even more energy and the feel good hormones .So running is a great mood elevator.

Running is a lifetime sport. It has no age bar. Once children happily fall in love with running, they can carry on this sport for the rest of their lives.

Running is so very simple. And easy. There are no rules and the only equipment needed is the 'body'.

You can turn running into a fun sport by adding obstacles, flags and little trails all along the running track. It builds up excitement and makes sure that boredom is kept at bay.

Just as you got down on all fours and got 'muddy' with your child, you need to slowly graduate to running along with your child. Start with a run in the park, in the driveway or maybe even up and down the stairs. Remember, the family that runs together, stays together.

According to research, running can enhance your capacity to learn and recall new information and vocabulary. So running is a great cognitive enhancer.

When children run together in a short distance marathon, it takes the shape of a wonderful group sport. They run together as a team, wearing the same logo and T shirt. This has a great bonding effect ,It is collaboration at its very best.

Running a short distance run, teaches them about goal setting. They see the finishing line at the other end and get a clear vision of where they need to reach and how.

Little Millennium Preschool follows a curriculum that encourages children to learn through their bodies.
They act their rhymes, do the Animal Yoga and move their bodies to the rhythm of Story Yoga. And a zillion other purposeful movement routines.
Their hands and feet are forever in a constructive discovery mode or rather in the learning mode.
This Sunday, the 9th of December let us participate in the Children's Marathon in Mumbai as they 'Run for Fun'.
Come, let us together make our children fall in love with running.