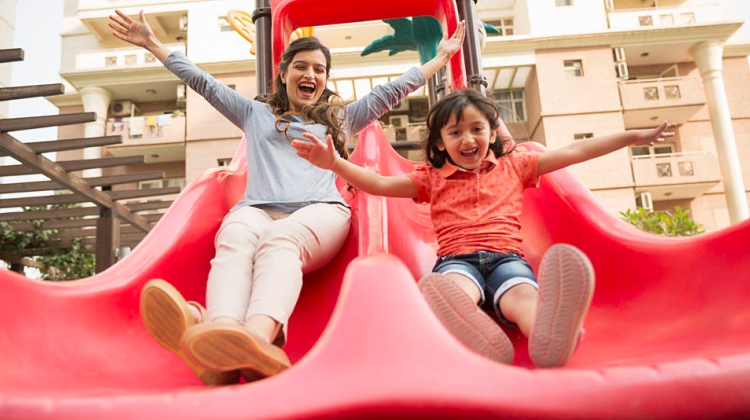 We often hear parents profess that it is difficult to take out time to play with their child/children. Parents have over busy days, there may be very important work matters to be attended to and several personal commitments to cater to. In the day to day rigmarole, parents often confess to having very less energy to spend with over energized children, especially after a long day at work!
But what a parent misses out is, the understanding of a proven fact that 'play is undoubtedly the purest form and opportunity 'of connecting with your child. During those moments of play, the child's world just shrinks to just 'you and him/her'. You are the centre of their microcosm.

45% percent of all Parents feel they DON'T HAVE TIME to play with their children

So why is taking out time and playing with your child/children important?
• To quote, Lawrence J. Cohen, Ph.D., a psychologist, play therapist and author of 'Playful Parenting', 'Play allows parents to enter a child's world on the child's terms'. It fosters closeness, confidence and connection.
• Playing is how children reveal themselves to us.
• It's also a way to be close and to reconnect after closeness has been severed, let's say by an argument or conflict or limit setting. The more we join them in their world, the more cooperative they will be when we drag them along to ours.
• Playing can be a way to find out what's going on in children's lives. With their dolls or action figures, children often replay scenes from their lives, putting their own emotional spin on the day's events. Joining those, gives parents insight into their thoughts and concerns, enabling them to find solutions to conflicts. Interactive play with their parents helps children develop the social skills necessary for getting along with others and is core to their healthy development. In other words, play encourages emotional literacy.
• When you play with your child, you are not only connecting and engaging, you're exchanging back-and-forth emotional signals, which is helping the child regulate mood and behavior, learning to read social signals and learning to communicate. Each of these abilities contributes to a child's sense of security.
• Playing with your child demonstrates your respect for them as you show interest in what they do and what they have to say.
• Children crave time with parents. It makes them feel special. Playing with kids builds a bond that will last forever. It lets the child know he or she is loved and appreciated. It helps the parent get to know and understand the uniqueness of each child. It is also a great stress reducer for overworked parents. This fact alone should be motivating enough to encourage each parent to find time to play!
• Play could include one to one time with each child and group time with all of the adults and kids in the home. Family Activities are great for the whole family. They help develop strong family bonds which can last a lifetime. It can be said that a family who plays together stays together. If you are a single parent or have an only child, occasionally invite family or friends over to spend time and play with your child.
Having said that, here are a few activities to get parents started with on how they can effectively engage to play with their child. These are simple hands down activities which encourage spontaneous as well as planned play.
• Go on a scavenger hunt – in the garden, balcony or maybe even the living room. Look for hidden treasures such as family photographs, round pebbles, a discarded peg table or even a red coloured towel. Just make sure there are no items around which could cause injury.
• Play in a cardboard box! Save the next cardboard box that comes home, big or small and play with it! If you have a large one, go playing housie! If it's just a small one, try colouring or painting it.
• Save the bubble wrap that the courier item was delivered in and make a bubble wrap runway for the kids to pop, pop, pop!
• Make a fort with cushions. Big ones, small ones – use them all.
• Reuse the play dough jars, or any small containers such as yogurt/jam containers lying around the house and fill them up to make sound jars. Play soft sound and harsh sound game with your toddlers.
• Get outside and just play catch! All you require is a ball and a partner!
• Just dig through your store and pull out all the junk you find. Put it together and make a junk art robot! It's hilariously fun!
• On a hot summer day, line up all the pillows on the cool floor and walk on pillows. Take turns and have fun while burning some calories as well.
• Test out your green thumb and try growing a plant! An Indoor Gardening Kit comes with all you need to start growing one.
• On a lazy Sunday morning, fill up a tub of soapy water to wash your child's favourite toys.
• Cut up a side of a cereal box to make a simple 4 or 6 or 8 piece homemade puzzle. Joining the pieces will improve vocabulary as well.
• Create music on pots and pans with spoons and ladles to make music! This idea never gets old for kids, no matter how old! Just make sure that the neighbours do not get a chance to complain.
• Draw 6 lines on the sidewalk with chalk (like a ladder). Check how far you and your child can jump.
Once you get started, the ideas pour in magically!
All it needs is the will to shut off the computer, put down your phone, and engage with your child via play.
You will soon discover a different world altogether when you regularly play with your child!